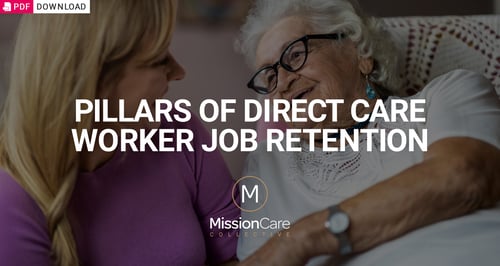 MissionCare Collective has released a new framework for the pillars of direct care worker job retention. The framework includes 23 provider and policy strategies across six pillars to stabilize the workforce:
Purpose: Help employees connect to the company mission, vision, and their purpose delivering care.
Pathways: Elevate your employees' skills based on their unique interests and career trajectories with a firm foundation in delivering exceptional care.
Compensation: Pay fair wages, maximizing earning potential to create a more stable workforce.
Flexibility: Offer flexible scheduling options to accommodate workers' unique life responsibilities, enhancing job satisfaction and retention.
Connection: Create an environment of connectedness to bridge a relationship between the employee, the company, the supervisor, clients and peers.
Recognition and respect: Recognize employees for a job well-done, building a culture of appreciation and gratitude
This framework can be used by healthcare leaders to evaluate immediate opportunities to stabilize the workforce and also to advocate for positive, local policy change.
The framework is based on research and the collection of both quantitative and qualitative data, surfacing these six pillars are essential for direct care worker job retention. Some of the 23 strategies outlined can be implemented in short-order while others will take a collective movement of change.