A STUDY ON WORKFORCE DYNAMICS FROM THE PERSPECTIVE OF AN AGENCY
Home care's workforce shortage is a challenge that has riddled the provision of in-home care for more than two decades. Download the full report today.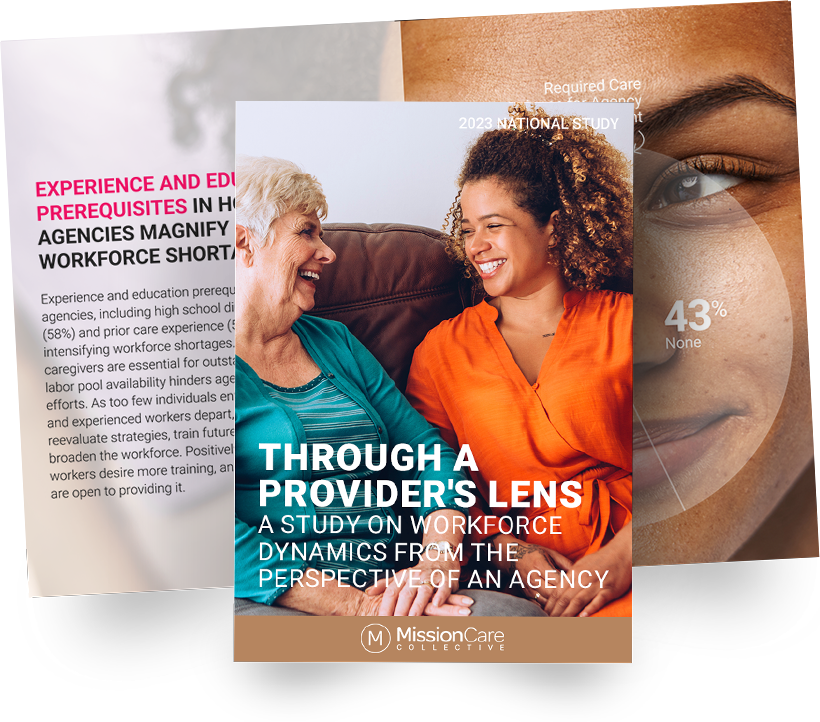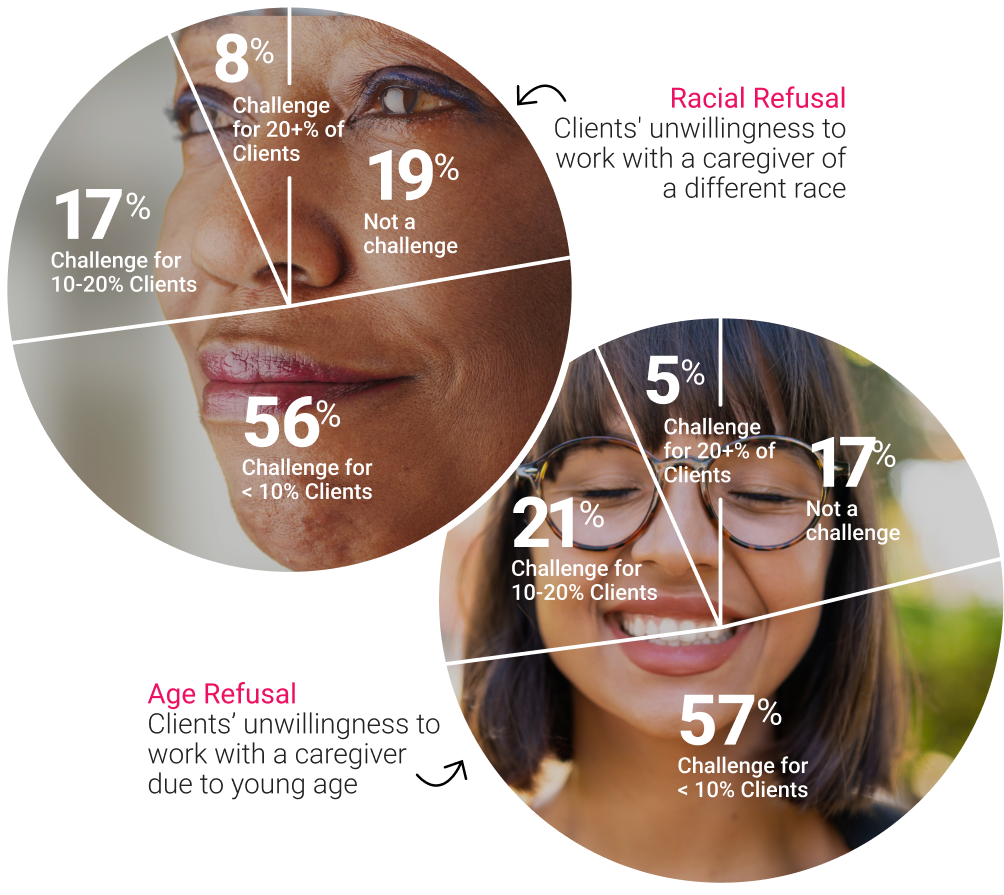 CLIENT DEMAND COMPOUNDS

WORKFORCE CHALLENGES
Staffing challenges of an already strained home care workforce are exacerbated due to race-specific caregiver requests from clients, and the reluctance to accept younger caregivers.

The study explored "racial refusal" – clients' unwillingness to work with a caregiver of a different race. This issue is particularly concerning as 63% of the direct care workforce consists of people of color, many of whom reside in underserved communities. The findings underscore the urgent need to address racial biases in home care to ensure equitable access to caregiving opportunities for all.

Additionally, according to the US Bureau of Labor Statistics, in 2020, approximately 12.4% of healthcare support workers were aged 16-24. These roles often serve as valuable stepping stones for career development. Given the wage pressure in home care, younger individuals might be more willing to take on these positions as a stepping stone, emphasizing the need to encourage more young people to join the field. More education is needed to demonstrate adequate and ongoing training of young caregivers.
CHALLENGES IN CAREGIVER RECRUITMENT & RETENTION

REVEAL MAJOR DIVIDE AMONG AGENCIES
Over the past six months, 53% of agencies have reported worsening recruitment and retention, while 38% observed no change. The study highlights a striking disparity in recruitment effectiveness, emphasizing the crucial role of internal operations in driving hiring success.

For instance, 31% of agencies make fewer than two hires from 50 applicants, while 22% make over six. Efficient recruitment practices, streamlined operations, and careful management of key KPIs are vital. The same investment in two agencies yields vastly different outcomes.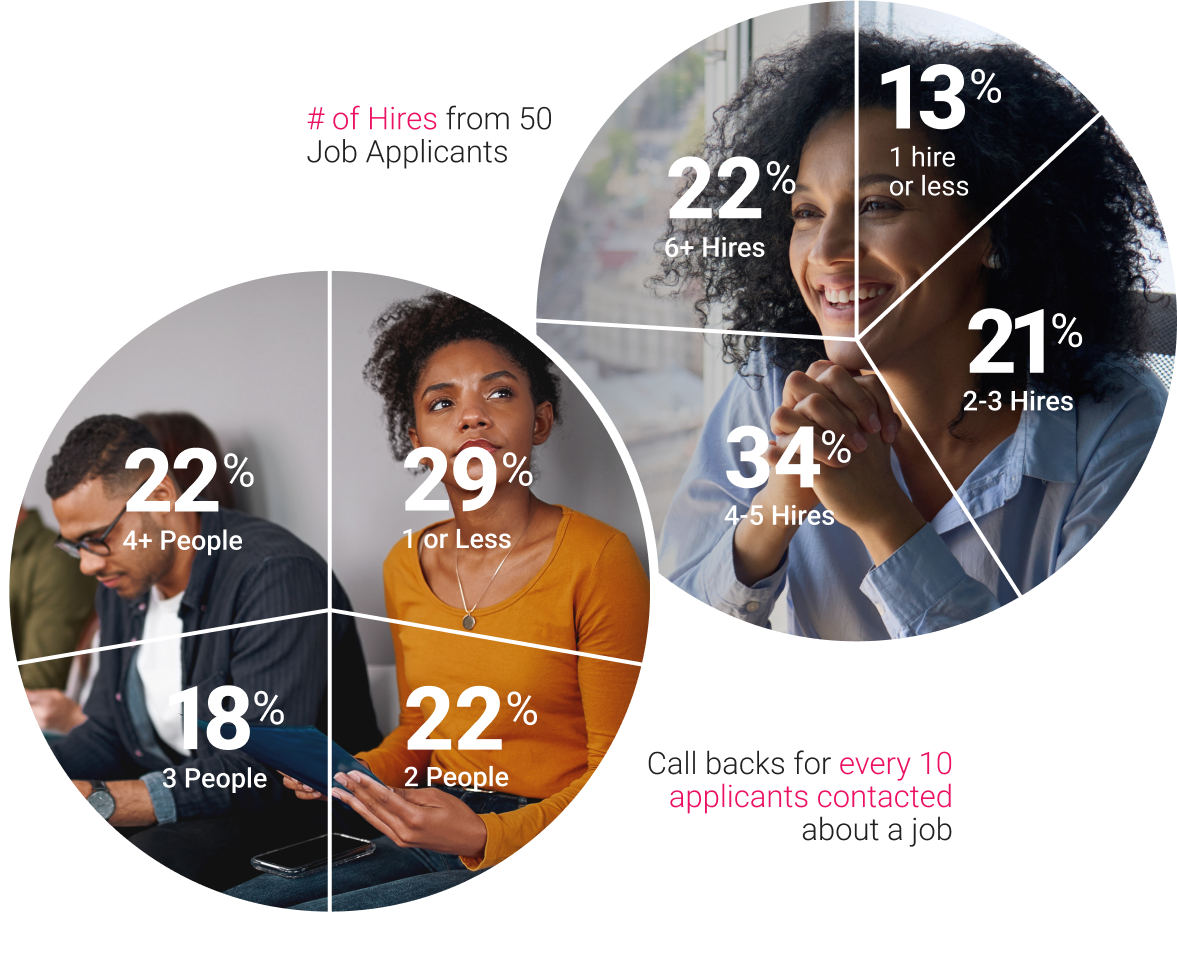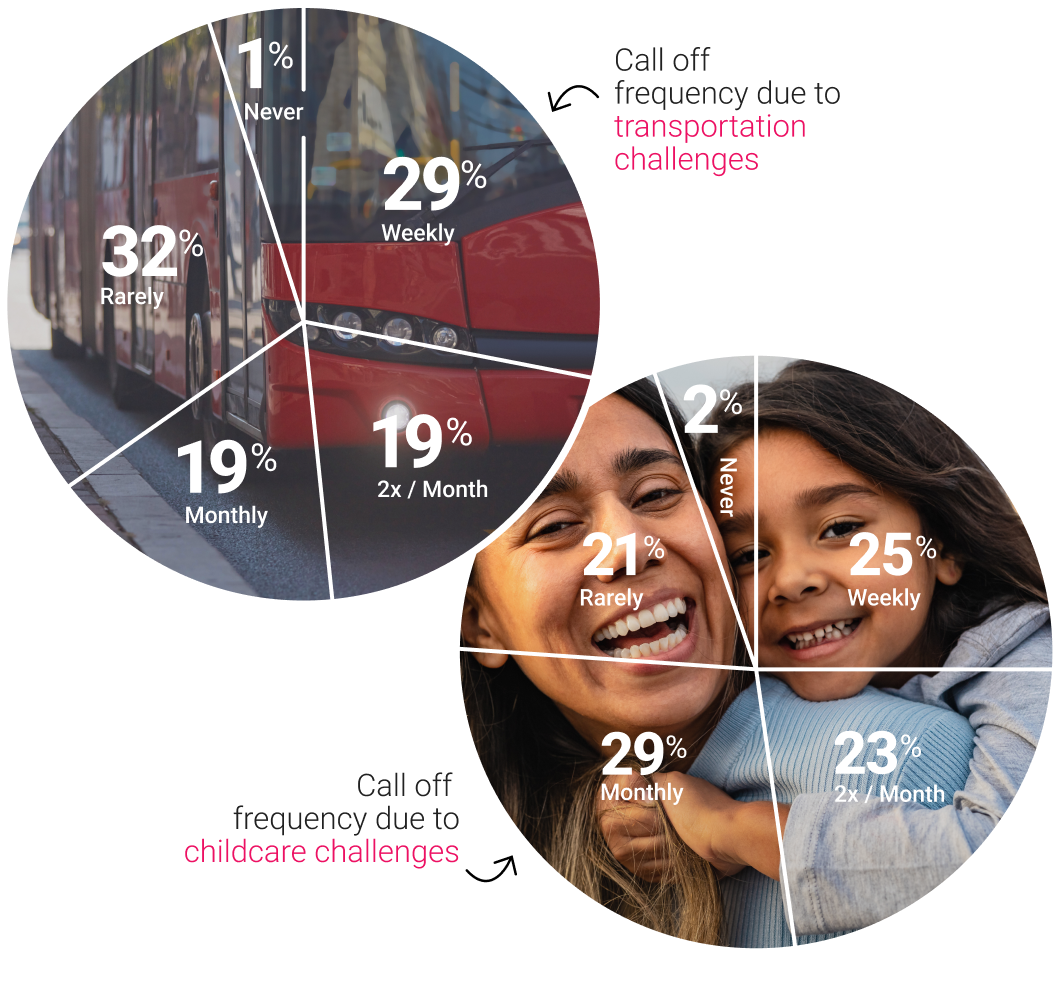 TRANSPORTATION & CHILDCARE CHALLENGES
TRIGGER CAREGIVER CALL OFFS, RESULTING IN REDUCED CARE DELIVERY
Agencies have reported frequent caregiver shift cancellations due to transportation and childcare challenges. With 85% of direct care workers being female and many single parents, these obstacles impact a significant portion of the workforce.

Unlike many Americans who can work remotely or with flexible schedules, care must be delivered in-person and punctually. Limited access to affordable, quality childcare exacerbates the financial stress and instability of low-income jobs. To envision a brighter future, advocacy and policy changes supporting affordable childcare, transportation, and fair wages are necessary. While some care workers assist their communities part-time, many seek a full-time caregiver career, underscoring the need for a more supportive environment.